Technology Forum - Accelerate adoption of innovation to enhance public services
Join us to connect and co-create! The Office of the Government Chief Information Officer, the Cyberport, the Hong Kong Productivity Council and the Hong Kong Science and Technology Parks Corporation jointly organise a series of technology forums for industry players to share their innovative information technology (IT) solutions and success stories, and how such technologies can help improve the quality of public services.
The upcoming forum, the twelfth of its series, is themed "Accelerate adoption of innovation to enhance public services" and will be held in hybrid mode again, i.e. some participants will join the forum physically while the others may join us online. Expert speakers will share their innovative ideas and solutions with practical examples on how to enhance government services, such as financial services through data analytics, and unleash the potential of blockchain in the delivery of public services, such as secure records management, transaction handling, etc.
How to make use of data analytics and blockchain technology to create more innovative applications and meet the needs for social and economic development? Join us and get inspired to generate innovative ideas and continue to optimise our public service!
If you are interested in any of the topics, please don't hesitate to join us and talk to the experts directly!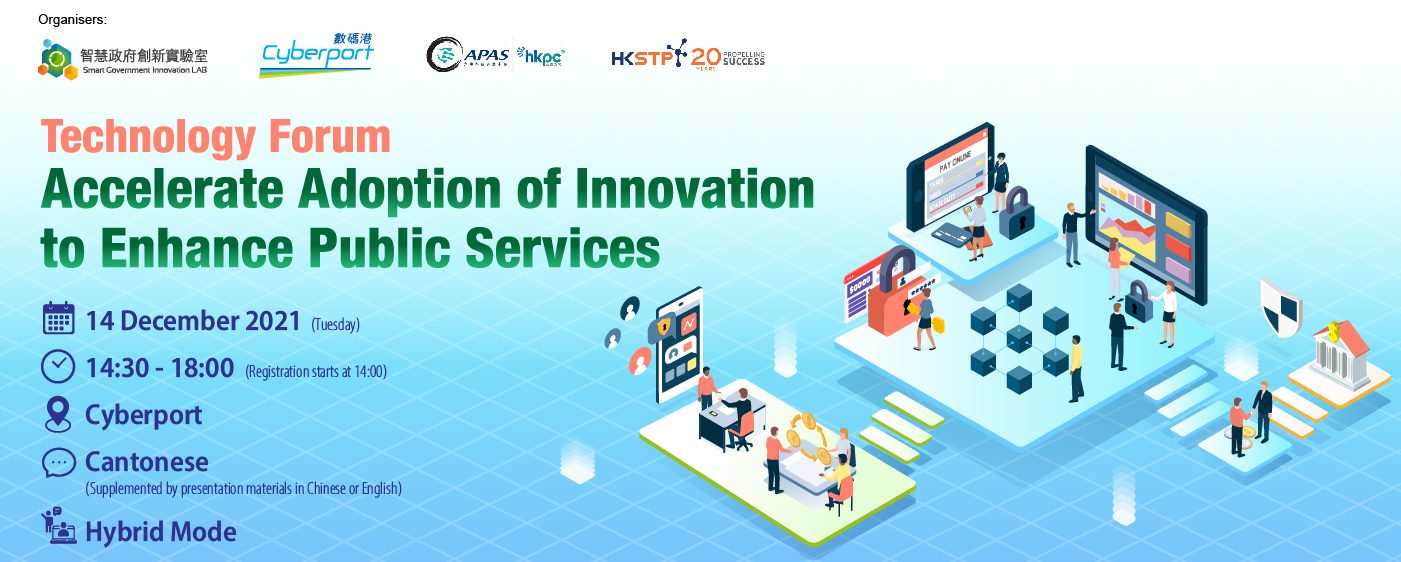 14 December 2021 (Tuesday)
14:30-18:00
(Registration starts at 14:00)
Venue: Cyberport Function Room, Core E, 3/F, Cyberport 3 (*online live-streaming will also be arranged)
Language: Cantonese
Supplemented by presentation materials in Chinese or English

14:00 - 14:30

Registration

Exhibition & Networking

14:30 - 14:35

Welcoming Remarks

Mr Peter YAN, Chief Executive Officer
Cyberport

14:35 - 14:40

Opening Address (Chinese version only)

Mr Victor LAM, JP, Government Chief Information Officer
Office of the Government Chief Information Officer

14:40 - 14:55

Unleashing the Power of Data through Commercial Data Interchange (CDI)

Mr Chi-wai CHUNG, Manager (Fintech Facilitation Office)
Hong Kong Monetary Authority


14:55 - 15:55

Presentation of IT Solutions - Improving Government Financial Services with Data Analytics

15:55 - 16:15

Break

Exhibition & Networking


16:15 - 16:30

Academic Certificate Verification from Smart City perspective

Mr Adams CHAN, Director of Computing Services
City University of Hong Kong


16:30 - 17:30

Presentation of IT Solutions - Blockchain and its Potential in the Government

17:30 - 18:00

Exhibition and Networking